Over the Rainbow
As the rainbow trend marches on we came to wonder what it is about these riots of colour that are loved by so many?


Rainbows have always held a special significance for some and recent times have meant that they have become a little ray of light for more people than ever.
So... now that restrictions are lifting and we begin to adjust to our new normal are we 'over the rainbow'?

Here at Bear & Bloom we say NEVER! 


For one thing rainbows are actually extremely forgiving in terms of kids' interiors. 
All too often parents take time to carefully decide on a colour palette for their little ones.  interiors that they feel suits their overall interior style, only to find that once they have redecorated the reality is that children tend to own so much multicoloured paraphernalia  that the carefully planned palette is totally lost.


We believe that rainbows are for life and not just for lockdown and so we've curated a list of our favourite rainbow inspired finds from small businesses to bring a touch of magic to your life.


For your little ones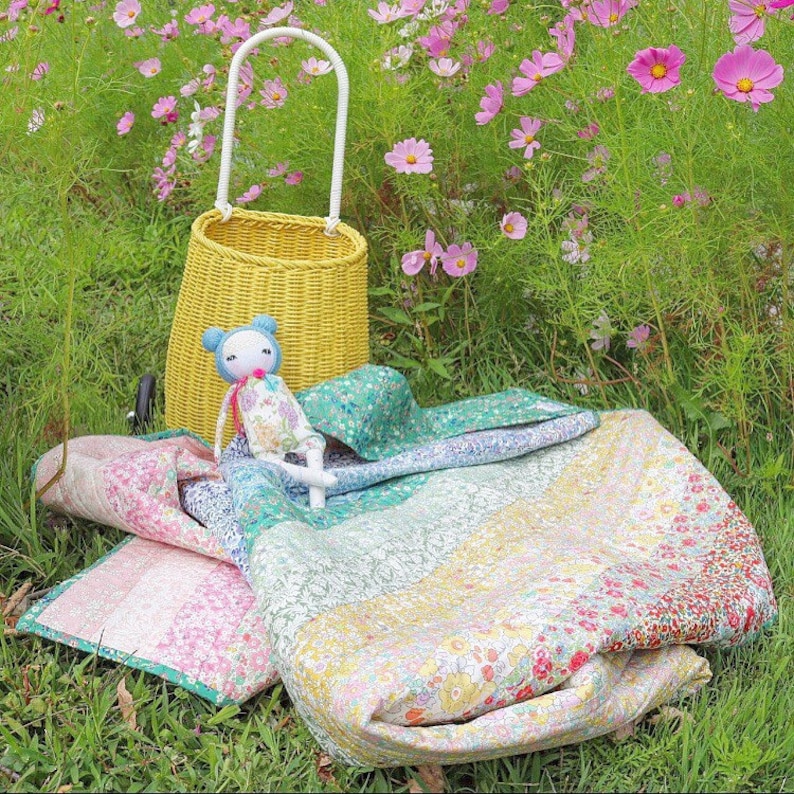 If you are a follower of our instagram account then you will probably have spotted one of these enchanting, handmade, liberty print rainbow quilts from Kirstykins popping up in lots of our pictures. The ultimate in future heirlooms, these utterly joyful, luxury quilts can be treasured and passed down through the family for decades to come!
Playmats don't come more magical than this dreamy yet practical one from Gus + Beau



Not only is it totally gorgeous, it's tiles are extremely versatile, easy to clean and made with no toxic nasties. It's super squishy foam is 1.4cm thick, and so it's perfect to protect from bumps, wear and tear and not forgetting tired, achy parent knees!
This one isn't strictly rainbow but as it is available in such a glorious array of mouthwatering sorbet shades we simply couldn't resist including it! 



"When I first saw these huge Nobodinoz floor cushions from Pop and Punch I actually wanted one for myself! In the end it was actually my son that I got one for and he absolutely loves snuggling up in it for story time, watching films or for sprawling on whilst he plays dinosaurs or does puzzles. It is also fortunately very easy to clean with its removable cover - an absolute must for a pet owner like me"! 
Victoria - Creator of Bear & Bloom

This beautiful dusty pink rainbow bed linen is a perfect way to add a nod to the rainbow trend without introducing a full spectrum of colour. It was designed exclusively for Little Jagger by the amazing Ingrid Petrie. This modern rainbow design is handmade from 100% cotton and is also completely reversible featuring a star design on the back.


These organic cotton, sensory puzzle blocks make a great gift for babies and toddlers as not only do they look lovely on a nursery shelf they are designed to help encourage their cognitive development. They are also machine washable which means that you don't have to worry about them being ruined by baby gums and sticky fingers.
Here at Bear & Bloom we were dancing with rainbows long before it became a trend – after all, what could possibly be more magical?
Our Let Love Bloom rainbow is a riot of colour made from stars and blooms. Utter magic!


Prefer something a little different? Our original artistic interpretation of the famous Oscar Wilde quote is more popular than ever – "When it rains look for rainbows, when it's dark look for stars".
Our Look for Rainbows wallpaper is the perfect balance of colourful and calm. Flowers dance through billowy clouds catching the light and creating magical rainbows. This statement wallpaper is sure to make any room magical and is ideal for a feature wall!


Whilst at Bear & Bloom we are all about daydream believers but that doesn't necessarily mean just little ones! Here are a couple of our favourite finds for grown up daydreamers with a soft spot for all things rainbow.
For Grown Ups



Honey and Toast bags are crafted in Somerset from beautiful, vegetable tanned leather. The whole collection oozes quality and classic style but it's the bespoke range in particular that really gets our hearts beating faster! How adorable is this bespoke saddle bag featuring a child's rainbow sketch? Capturing a little one's masterpiece in this incredibly unique and original way would make a perfect gift for someone special (or a fabulous way to treat yourself) and is a timeless keepsake piece. 

These enchanting huggie hoop earrings feature teeny rainbow coloured stones set within a star to bring a playful touch to your look. Huggies are the ideal go to earring for day to day adding just the right touch of rainbow magic to your outfit!
We hope you like these rainbow treasures as much as we do. Long live the rainbow!🌈